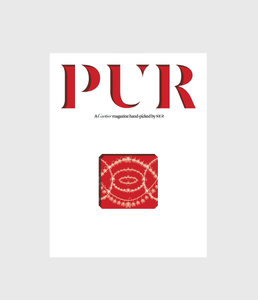 Pur: A Cartier magazine hand-picked by Nez
Regular price
$0.00
$0.00
Unit price
per
This is a complimentary supplement offered by Nez. This item will ship free of charge.

Issue

Pur : A Cartier magazine hand-picked by Nez

Publication Date

15 July 2020

Language

English

Pages

32 pgs

EAN

–

Cartier's olfactory jewels




To coincide with Cartier's launch of a new and exclusive collection – Les Épures de parfum –

Nez

decided that this was the perfect moment to impart its vision of a house whose singular position in the landscape of contemporary perfumery, embodied by Mathilde Laurent, its in-house perfumer, continues to fascinate us to this day, much as it did when we featured a landmark interview with her in our inaugural issue.

This supplement goes beyond presenting the often shared approach about the role of the fragrance creator, the complementarity of natural and synthetic substances, and the importance placed on perfume traditions. It also sheds light on the similarities and ties between Mathilde Laurent's work and Cartier's principal line of business, a bond that has led her to make such declarations as: "I designed this collection as living pieces of high jewelry inspired by flowers and nature."

From the interview with Olivier Darné, a visual artist and beekeeper, to the dialogue between Mathilde Laurent and Pierre Rainero, director of image, style and heritage at Cartier, to the story of the jeweler's perfumes and an in-depth look at the three creations that make up this new collection (

Pur Muguet

,

Pur Magnolia

and

Pur Kinkan

), you'll find pure essence of Cartier distilled in these pages.

Then, the collection will be for you to smell!
---